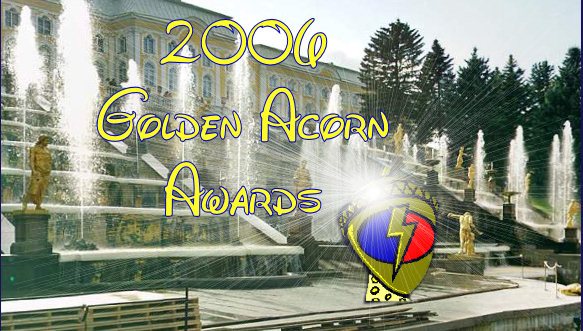 The 2006 Golden Acorn Awards are currently in the voting process, scheduled to end on midnight the morning of Friday, February 9th. You will find the list of finalists here. Winners for the 2005 GA Awards can be found at the 2005 Archive Page. The new additions to the All-Time Best Winners can be found at the All-Time Best Page. Once all votes are tallied, the winners will be contacted in secret by e-mail to solicit their acceptance speeches--all winners are expected to keep their wins secret until they are announced at the ceremony.

The 2006 Golden Acorn Awards ceremony is tentatively scheduled for a live showing at Peterhof in St. Petersburg, Russia via the Acorn Cafe on Wednesday, February 28 at 7pm central time. This date and time may change, given any unforeseen circumstances.

The Golden Acorn Awards are copyright Rennod and Indy. The Golden Acorn image above is copyright to Karen "Kat" Mollet. The picture of the Grand Cascade at Peterhof above is copyright to the Peterhof website and used without permission. All disclaimers and such can be found by following the links from the main page.